scaricare pandora appauthor">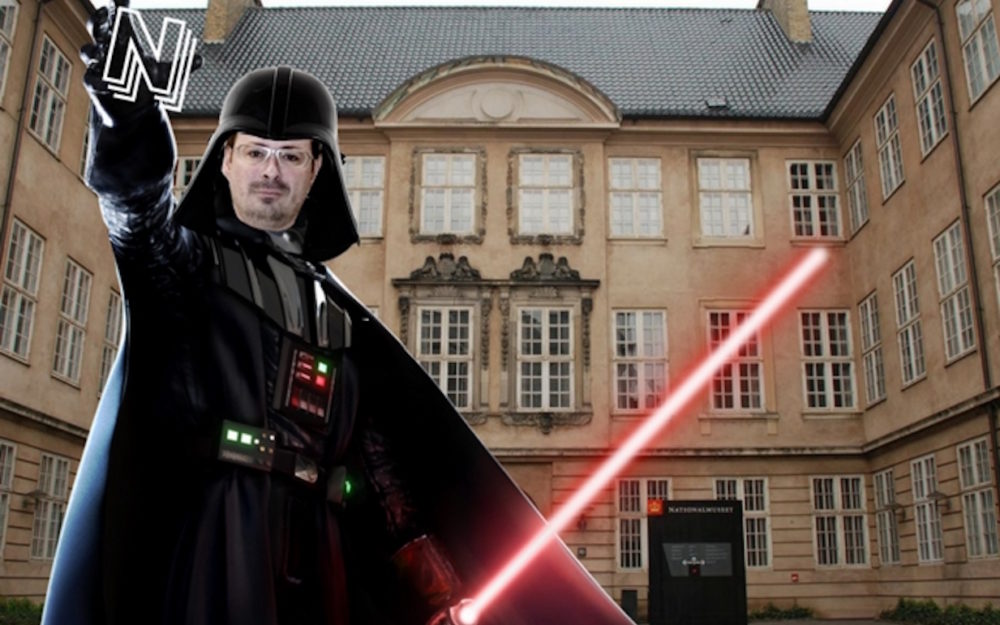 Nationalmuseets nye direktør, Rane Willerslev, bryder sig ikke om museets logo: "Det er simpelthen så røvsygt". Thomas Sehested, direktør i Stereo Associates, var med på holdet, der i sin tid udviklede logoet og den visuelle identitet. Her er hans svar på kritikken.
Antropologen Rane Willerslev har siden den 1. juli 2017 været direktør for Nationalmuseet, og han har med sædvanlig energi og engagement kastet sig over at gøre samlingerne vedkommende og engagerende for dette årtusindes besøgende. Men logoet står i vejen for det nye – det er "simpelthen så røvsygt", er han citeret for.
Har han ret? Tager han fejl? Og hvis der er noget, der skal ændres i konglomeratet Nationalmuseet – begynder forandringsprocessen så med et logo?
Rane Willerslev og hans tvillingebror Eske Willerslev er her, der og allevegne. Med tv-serier, bøger, radiooptræden og stribevis af interviews har vi fået en ny type rollemodeller, når det gælder forskning og formidling. Det er dejligt, det er fresh, for det sker ikke så tit, at dyb faglighed og vilje til at kaste sig ind i samtiden på den måde er med til at sætte en dagsorden. Så langt, så godt.
Men er Rane Willerslev kommet godt fra start? Har han sat sig ind i tingene? Willerslev er ikke alene forsker og debattør, han er nu også min og din direktør for den fremmeste kulturhistoriske institution. Nu taler han med al den autoritet, der ligger i stillingen, så han skal tages alvorligt.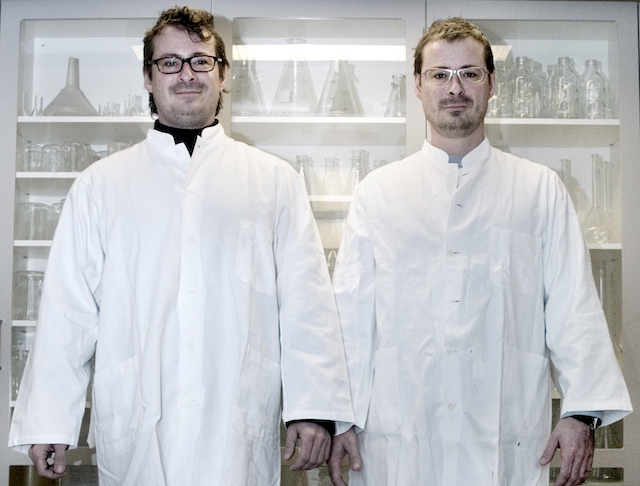 Rane (th) og Eske (tv) Willerslev er enæggede tvillinger og eliteforskere. Scanpix: Ditte Valente.
Ny kost, ny tid
Vi kender det alle sammen. En ny chef er også lig med en ny kost, der skal feje det gamle skidt ud af krogene. Det nye skal legitimeres. Således også med Willerslev. Logoet skal væk, for det signalerer offentlighed på den forkerte måde.
Men gør det nu også det? Og hvad er det for en betydning, som han lægger i mærket? Og hvis der er noget galt med Nationalmuseet – er det så logoet, der er det rigtige sted at starte? Skulle et nyt logo ikke netop være resultatet af overvejelserne om et nyt Nationalmuseum?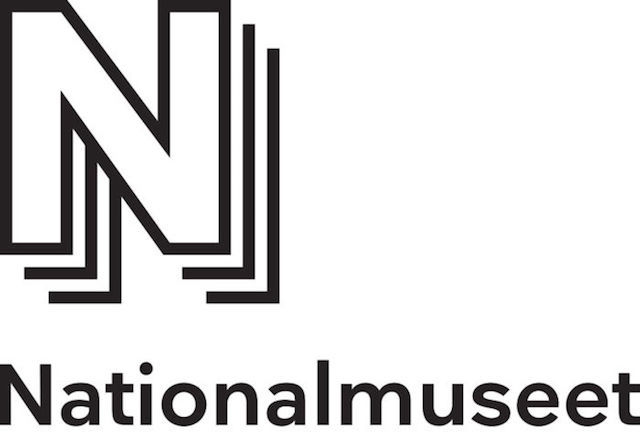 Hvad siger teorierne om forandringsledelse? Starter man med det ydre, altså med logoet, eller skal logoet (og alt hvad der deraf følger af visuelle guidelines) ikke netop være resultatet af en strategi og videre tænkning om, hvad det hele skal gøre godt for?
Integritet og antihelt
Willerslev forestiller sig, at et nyt logo for Prinsens Palæ f.eks. har Solvognen som symbol. Han ser ifølge artiklen i Berlingske også Prinsens Palæ som en slags samlingspunkt for organisationen – det er Dødsstjernen med Willerslev som Darth Vader. Ja, det sagde han faktisk.
Jeg har altid mere set Willerslev som Han Solo fra de tidlige Star Wars-film (ikke de senere, hvor han bliver en sur mand). Han Solo var oprindelig sådan en, der tit sagde det rigtige, men måske også mindre høfligt og korrekt. En outsider-helt, som godt kunne tillade sig at træde lidt ved siden af, for vi vidste, at integriteten var intakt.
Måske skal Willerslev til at øve sig i at være mere Master Yoda-agtig? Darth Vader rimer dårligt på hans øvrige udsagn, og Mr. Vader var nok ikke den figur, som kulturministeren tænkte på, da hun ansatte Willerslev.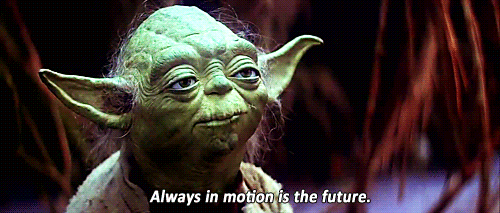 Signal til organisationen
Selvom der sikkert er nogle organisationskonsulenter, der kan få meget ud af det med Vader – er det så et godt signal at sende til medarbejderne i den vidtforgrenede organisation?
Og er det i virkeligheden så anderledes og nyt, end det var før Willerslevs tiltrædelse, hvor det trelagede N-logo netop bliver brugt i alle dele af institutionen som en slags garant for og markør af kvalitet, viden og måske oplevelse?
Sluppen Ruth og de andre
Willerslevs tænkning om Nationalmuseets monolitiske brandstrategi, hvor Dødsstjernen er et epicenter i Nationalmuseet, står også i modsætning til, hvad han fortæller om at give de forskellige enheder større autonomi og selvstændighed i forhold til corporate HQ ved Frederiksholms Kanal.
Der er jo stor forskel på f.eks. Hangar 46 i Værløse og Sluppen Ruth, der begge er en del af organisationen. Det forstås.
Mærsk eller P&G
Skal vi tage Willerslev på ordet, så skal vi både forstå Nationalmuseets brand som en slags Mærsk, der med samme logo, farve og typografi kan rumme divisioner som Oil, Line og Drilling, men på den anden side er det også at sammenligne med Procter & Gamble, der ejer produkter, der er stærkere end hovedbrandet.
Hvem ved f.eks. at Braun, Libresse og Lacoste er ejet af netop P&G? Der bliver noget at se til for designbureauet, der skal udtænke Nationalmuseets nye visuelle identitet.
Museum og logo
Hvis vi kigger lidt videre ud over de nationalmuseale sammenhænge, så har det gennem mange år været en tendens, at visuel identitet, herunder logoet, ikke fortæller, hvad der rent faktisk er på museet.
Det lyder måske mærkeligt, men der er jo en grund til at British Museum ikke har Rosetta-stenen som symbol, at Louvre ikke skilter med Mona Lisa som ikon, og at Glyptoteket ikke har hverken mumier eller impressionister som visuel markør.

Trends i museumsbranding
Store, favnende museer er så meget andet end de enkelte genstande. Faktisk er museerne også eksponenter for mere end summen af samlinger. Museerne har jo en position, de skal kommunikere; de har en særlig måde, historie, metode eller tilgang, som skal gennemsyre tænkningen – og designet.
Og derudover synes jeg, det er tvivlsomt, at Solvognen skulle kunne bære at blive brugt som samlende symbol. Fungerer det som overordnet mærke for samtlige udstillinger, herunder om vikinger eller de hvide busser?
Er Solvognen et godt og samlende udtryk for de visioner, som Willerslev har for formidlingen af Danmarks kultur og historie?
Hvorfor ikke hashboden fra Christiania – meget apropos hans optræden i Radio24syv, hvor der blev røget en bønne – eller et papuansk penisfutteral fra den etnologiske samling, der er med til at gøre Prinsens Palæ særlig?
Fremad – ikke bagud
Det er bagudskuende at tænke i genstande som symbolik. Og ja, det er rigtigt, der er museer, som har genstande som ikon. Tag f.eks. Museet for Anden Verdenskrig i Gdansk, der har stiliserede bomber, eller Imperial War Museum, hvis logo leder tanken hen på faldende bomber og ødelæggelse. Men her er der også tale om afgrænsede tematiske samlinger.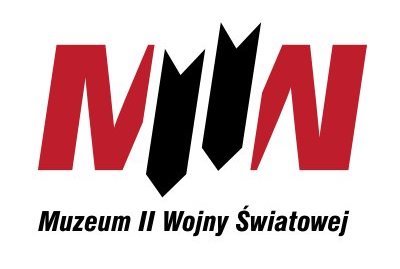 Logoet for Museet for Anden Verdenskrig i Gdansk.
Ting eller historie?
I lidt bredere perspektiv skygger genstandene, objekterne, også for muligheden for at fortælle en større historie om Nationalmuseet – for det er andet og mere end tingsamlinger.
De besøgende ved godt, at der er ting på et museum. Derimod vil man gerne have, at publikum gør sig umage med at sætte objekterne i spil, i perspektiv og kontekst. Fornøjelsen ved Solvognen er ret begrænset, hvis vi ikke hører om kulturen og menneskene, der skabte den: Hvordan boede de? Hvad spiste de? Hvad tænkte de på? Hvor tit havde de sex?
Dette er altsammen noget, som jeg bilder mig ind, Willerslev faktisk kan skrive under på, men som hans tænkning om visuel identitet åbenlyst ikke er synkroniseret med. Jeg tror, han vil noget, men faktisk siger han noget andet.
Hvad er godt museumsdesign?
Se eksempelvis på Statens Museum for Kunst og deres logo. Her er den gennemgående idé, at rammen ikke symboliserer et konkret maleri, men at SMK er et rammesættende sted. Der er jo så mange andre kunstformer og genrer end netop maleriet på SMK. Derfor siger logoet (og rammen), at SMK kuraterer, udvælger, fortæller, sætter i scene – når det handler om kunst.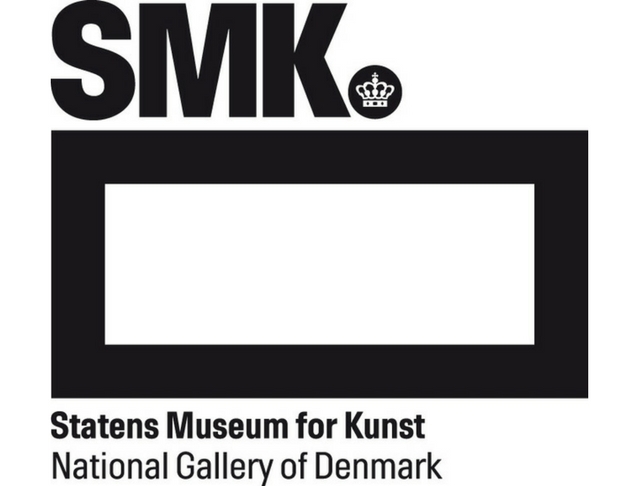 SMK har sat sig for at gøre os klogere på kunst. Logoet fortæller om, hvordan museet arbejder, hvad jeg kan forvente som gæst.
Se også på M/S Museet for Søfart. Her kunne en fin tegning af en skonnert og nogle flag som garniture være et oplagt valg til et logo, hvis det var lavet for 20 år siden. Men M/S favner jo netop også det nutidige og fremtidige – og derfor er identiten bygget op med inspiration fra moderne skibsfart.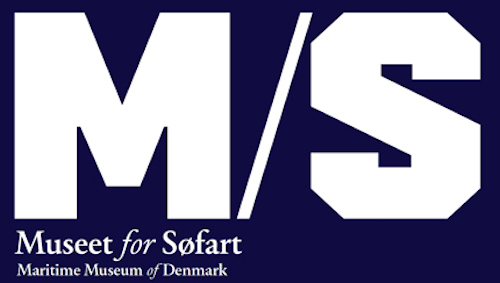 Gæsterne ved jo godt, at de nok skal få fortalt om gamle dage, men de ved måske ikke, at nutiden er inviteret indenfor; det er så at sige også et branchemuseum og et succesfuldt et af slagsen, hvor design og arkitektur spiller fint sammen.
Før, nu og aldrig
Ideen bag Nationalmuseets nuværende logo er netop at kommunikere, hvad Nationalmuseets rolle er i samfundet – på en enkel og forsimplet måde.
Da det blev lavet i 2013, var det vigtigt for ledelsen, at der kom styr på familien i Nationalmuseet – der skulle være genkendelighed på tværs af de 20 enheder, men samtidig skulle der også være stor lokal frihed, så længe typografi og N-logoet blev brugt.
Tanken bag N'et er, at de tre lag i snæver forstand symboliserer fortid, nutid, fremtid. I den kontekst er Nationalmuseets fornemste rolle at arbejde med fortiden til gavn for nutiden med sigte på fremtiden. Sagt på en anden måde: Nationalmuseet skal fremlægge fortiden for nutiden, så vi kan være klogere på fremtiden. Intet mindre.
I morgen bliver i dag
Af disse tre tidsperspektiver er fortid og fremtid de eneste konstanter; den ene har været der, og den anden kommer på et tidspunkt. Sådan vil det altid være. Det er nutiden, der ubønhørligt flytter sig – og i den sammenhæng er det et kerneelement for de videnskaber, der beskæftiger sig med fortiden, at vi altid ser det, der var, med nutidens briller: I morgen er i dag i går.
Hvad vi i 2017 synes er vigtigt at vide om stenaldermennesker, kan meget vel vise sig at være noget andet om 10 år, fordi vores samfund har ændret sig, eller fordi teknologien er anderledes eller noget tredje. Det er jo noget brormand Eske Willerslev kan tale med om – hans forskning har genskrevet verdenshistorien. Vi ser anderledes på aboriginere i dag, end vi gjorde for 10 år siden.
Konkurrencen er stor
Det gælder også om, at Nationalmuseet skal stå distancen i forhold til de andre tilbud, som storbyen frister med. De nære konkurrenter er selvfølgelig andre museer, men i bredere forstand er det også Tivoli, biografen, kanalrundfarten og sofaen derhjemme.
Jo klarere og stærkere fortælling om Nationalmuseet, man kan præstere, jo bedre og klarere bliver signalgivningen om museets rolle og betydning for gæster og samfund. Den rolle kan Solvognen eller hashboden – uanset deres historiske og ikonografiske værdi – ikke håndtere.
Rædselsscenariet
Det værste, der nu kan ske, er, at designbureauet, der skal lave det nye logo, falder i samme fælde, som de gjorde i Stockholm. Her har Historiska Museet et logo med ikonsæt af genstande fra samlingerne.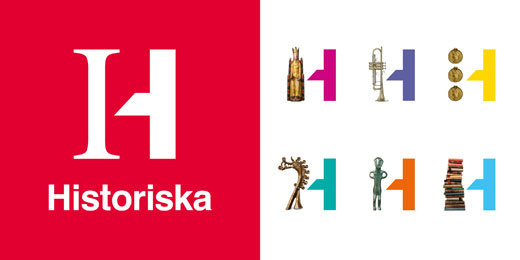 Historiska Museets logo
Det er en endnu værre idé end Willerslevs solvogn. Et sæt af ikoner vil bare fortælle, at museet har – surprise – mange genstande. Det vil signalere rarietetskabinet på den rigtig utidsvarende måde. For de indspiste er det rene Museum Wormianum en samling uden mål eller sigte.
It's the implementation, stupid
Og hvorfor er det så, at Willerslev er så sur på logoet? Smag og behag er selvfølgelig forskellig – og det er helt fint. Men hvis jeg har ret i min antagelse om, at selve idéen bag logo og identitet stemmer overens med tanken bag Willerslevs formidlingstanker, hvad er det så, der driller direktøren? Hvorfor er han sur?
Jeg tror, at det skyldes, at Nationalmuseet som organisation har været dårlig til at bruge den energi og tænkning, der ligger bag identiteten. Der er jo ingen – ingen – der køber en liter mælk, fordi der er et Arla-logo på, eller investerer i en KIA pga. mærket på køleren. Og ingen går på Nationalmuseet pga. et nyt logo.
Det handler om, hvad brandet – mælk, bil eller museum – har på hjerte, kommunikerer, udtrykker og tilbyder af oplevelser. Og det er her, at folkene på museet ikke har formået at aktivere den samlede, fulde visuelle identitet, der består af så meget andet end logoet.
Implementering, implementering, implementering
Den visuelle identitet er ikke brugt kommunikativt – sådan som f.eks. SMK har været dygtige til. De tre N'er kan bruges præcis så vildt og opsigtsvækkende, som man har lyst til. De kan fås leopardprikkede, i pink, i flammer and 'what have you'. Men pointen er, at det har Nationalmuseet ikke rigtig formået at omsætte.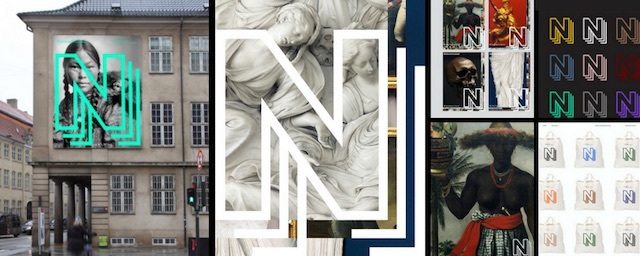 E-Types står bag Nationalmuseets logo. Se hele e-Types logo-design her.
Logoet er blevet brugt som et stempel og ikke som en aktivering af den store fortælling om, hvorfor staten Danmark har et Nationalmuseum, der har viljen og evnerne til at sætte scenen for fortællingen om, hvordan Danmark blev til Danmark.
For eksempel er domænet tre år efter stadig natmus.dk, som mere er til indvortes brug end rettet mod de besøgende. Det burde jo åbenlyst være n.dk. Se også på Facebook- og Twitter-profilerne, der bruger – har du gættet det? Et udsnit af Solvognen.
Det er simpelthen ikke rigtigt, at identiteten ikke kan være sprællevende, men det kræver selvfølgelig en indsats. At museet i år så heller ikke evnede at levere basisvaren – en udstilling om 100-året for Danmarks salg af de vestindiske kolonier, synes jeg er case in point, men nok på en lidt anden hylde.
Gode ønsker
Så kære Rane Willerslev. Vi vil så gerne høre om, hvordan du tænker fremtidens Nationalmuseum. Vi er vilde med din energi, dit vid og din lyst til at blande dig. Men hvis du gerne vil ændre Nationalmuseet – og der er meget at tage fat på – så er logoet ikke der, du skal starte.
Du har sikkert god brandrådgivning fra bureauet, og noget af det, de helt sikkert vil sige, er, at alt godt design er afhængig af god eksekvering. Det ved de godt på direktionsgangene rundt omkring, så afsæt flere penge til jeres kommunikationsafdeling, så næste direktør ikke sidder i samme situation som du. Solvogn eller hashbod, nye koste eller ej.
Opgradér til BureaubizPro og bring dig og dine kollegaer i front med vigtig viden om bureaubranchen.
Med Bureaubiz Pro får du:
Bureaurapporten trykt og digitalt
Bureaubot
Bureaubattle
Bureaukalenderen
Brancheanalyser
Udbudsvagten
Fuld adgang til Bureaubiz.dk
To årlige gå-hjem-møder
Køb nu